When the San Francisco 49ers lost quarterback Jimmy Garoppolo to a broken foot in Week 13, most assumed the Niners' Super Bowl aspirations were over. 
Coupled with Trey Lance's season-ending ankle injury in Week 2, San Francisco was forced to turn to its third-string quarterback, a seventh-round pick out of Iowa State.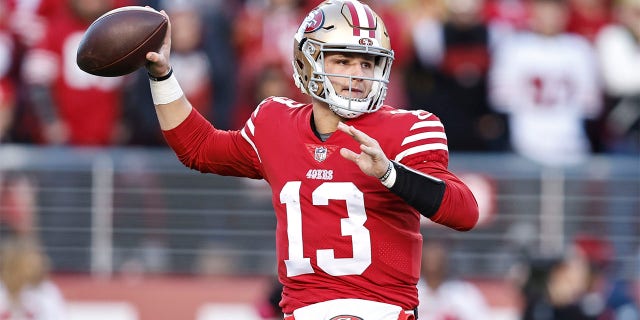 Dubbed "Mr. Irrelevant," due to being the last pick of the 2022 NFL Draft, Brock Purdy has done more than just keep San Francisco afloat.
SAQUON BARKLEY HOPING FOR CHRISTIAN MCCAFFREY-LIKE DEAL IN FREE AGENCY: REPORT
Purdy has not lost a game since taking over as the starter and now leads the 49ers to the NFC Championship game against the Philadelphia Eagles on Sunday.  
In two playoff starts, Purdy is 37-59 for 546 yards, three touchdowns and zero interceptions. 
The 59 postseason pass attempts are the most by a rookie without an interception in the history of the NFL, according to ESPN. 
AARON RODGERS BLASTS 'WOKE CULTURE,' SAYS STANCE ON COVID MADE HIM A 'VILLIAN'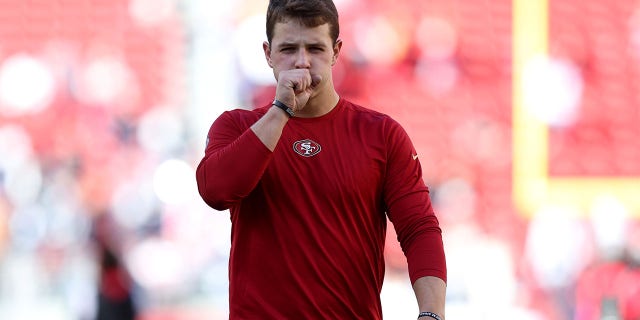 Purdy has long passed the quarterbacks in second and first place, with Norm Van Brocklin completing 14 passes without an interception in 1949 and Tyler Huntley completing 13 straight in 2020. 
In the games since Purdy took over for Garoppolo, the Niners are 8-0, and Purdy has thrown just three interceptions while passing for 16 touchdowns, 13 of which came during the regular season. 
CLICK HERE FOR MORE SPORTS COVERAGE ON FOXNEWS.COM
"Yes, he's been unbelievable with that," Shanahan said in his Monday conference call with reporters, via NBC Sports. "I think that's the No. 1 thing he's done. And to be able to be as good with the ball as he has while still making a number of the plays that he has, that's definitely the thing I've been most impressed with."
Purdy will become just the fifth rookie quarterback to start a conference championship game as he looks to become the first rookie QB to start in the Super Bowl.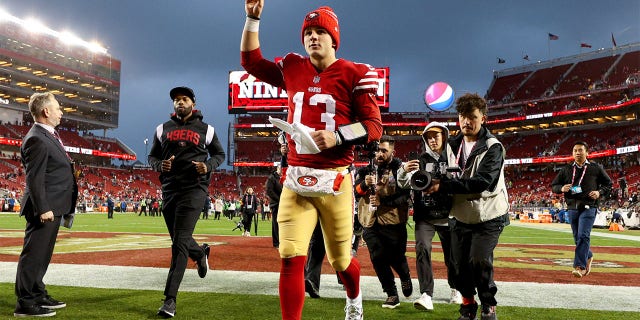 "Right now, I'm still focused in a sense with just the game and what we could have done to be better," Purdy said after beating the Dallas Cowboys on Sunday. "But yeah, it's pretty cool to see the clock at zero, and then you see the Niners over the Cowboys. That's pretty sweet in the playoffs. So definitely, credit to the coaching staff in getting us right all week. Defense, offense, special teams, everyone just playing. It takes everybody, not just one person or a couple guys. It literally takes everybody.
CLICK HERE TO GET THE FOX NEWS APP
"I'm just so proud of the team and playoff football is not easy, so to go and pull off a win like that against a great team like Dallas, and now going to the NFC Championship, it means a lot to us and for myself. Yeah, when I take a step back, it's pretty cool. Very thankful."