Alabama's Darius Miles supplied gun used in murder of young mother, say police
Jamea Harris was shot dead near university campus at weekend
Lawyers for basketball player say he maintains his innocence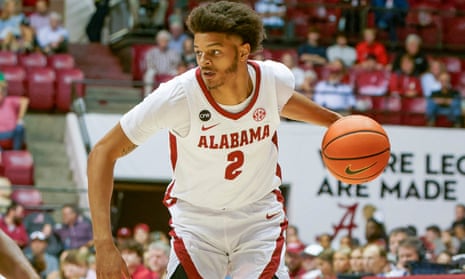 Investigators say a University of Alabama basketball player charged with capital murder provided the gun used in the fatal shooting of a 23-year-old woman, but another man fired the weapon.
Investigators say that Darius Miles admitted to providing the weapon used to kill Jamea Harris. Another man is accused of firing the gun and killing Harris near the university's campus.
Miles, 21, a forward from Washington DC, and Michael Lynn Davis, 20, of Charles county, Maryland, are charged with capital murder in the death of Harris, who had a five-year-old son. The shooting occurred early on Sunday on the Strip, a student-oriented business district of bars and restaurants near the Tuscaloosa campus, police said. Harris was sitting in the passenger seat of a car when she was struck by a bullet, investigators wrote in a court document.
The University of Alabama said in a statement that Miles is no longer on the basketball team. The Crimson Tide are scheduled to play Vanderbilt on Tuesday night in Nashville.
Defense lawyers for Miles released a statement on Monday saying Miles maintains his innocence and that he and his family "are heartbroken" over Harris' death.
"While Darius has been accused of being involved with this tragedy, he maintains his innocence and looks forward to his day in court," they said. "Our firm's own investigation is ongoing, and no further statement will be made at this time," attorneys William White, Clayton Tartt and Suzanne Norman from the the Birmingham-based Boles Holmes White law firm wrote in the statement.
Basketball coach Nate Oats said on Monday his players are going through "kind of a grieving process."
"They didn't have too many questions," Oats said of the players. "It's really just more of kind of a grieving process. I mean, they understand the severity of the situation with Jamea. They also understand the severity of the situation with Darius. There's both sides of it, dealing with it."
Harris's mother, DeCarla Cotton, said her daughter was beloved by her family.
"She was a beautiful young woman who loved her family and most of all her five-year-old son Kaine," Cotton told AL.com. "She was just trying to enjoy her weekend with her cousin that attends the University of Alabama and her boyfriend."
) can use this variablenttt * to set the thickness of their underline.nttt *nttt * The thickness for each font type and weight is definednttt * in the underlineThickness object.nttt */nttt–source-text-decoration-thickness: 2px;ntt;ntheight: 24px;ntmax-height: 24px;ntbackground-color: #F6F6F6;ntpadding: 0 8px;ntborder-top: 1px solid #DCDCDC;ntcolor: #707070;nttext-align: left;ntbox-sizing: border-box;n;nttposition: relative;ntt&.visible {ntttvisibility: initial;ntt}ntt&.hidden {ntttvisibility: hidden;ntt}nt}nt.ad-slot__close-button {nttdisplay: none;nt}nnt.ad-slot__scroll {nttposition: fixed;nttbottom: 0;nttwidth: 100%;nttntntttfont-family: GuardianTextSans, Guardian Text Sans Web, Helvetica Neue, Helvetica, Arial, Lucida Grande, sans-serif;ntttfont-size: 0.75rem;ntttline-height: 1.35;ntttfont-weight: 400;nttt;nnttt/*nttt * Child elements (e.g. ) can use this variablenttt * to set the thickness of their underline.nttt *nttt * The thickness for each font type and weight is definednttt * in the underlineThickness object.nttt */nttt–source-text-decoration-thickness: 2px;ntt;ntheight: 24px;ntmax-height: 24px;ntbackground-color: #F6F6F6;ntpadding: 0 8px;ntborder-top: 1px solid #DCDCDC;ntcolor: #707070;nttext-align: left;ntbox-sizing: border-box;n;nt}nnt.ad-slot:not[data-label-show='true']::before {nttcontent: ";nttdisplay: block;nttheight: 24px;nttvisibility: hidden;nt}nnt.ad-slot[data-label-show='true']:not(.ad-slot–interscroller)::before {nttcontent: attr(ad-label-text);nttdisplay: block;nttposition: relative;nttntntttfont-family: GuardianTextSans, Guardian Text Sans Web, Helvetica Neue, Helvetica, Arial, Lucida Grande, sans-serif;ntttfont-size: 0.75rem;ntttline-height: 1.35;ntttfont-weight: 400;nttt;nnttt/*nttt * Child elements (e.g. ) can use this variablenttt * to set the thickness of their underline.nttt *nttt * The thickness for each font type and weight is definednttt * in the underlineThickness object.nttt */nttt–source-text-decoration-thickness: 2px;ntt;ntheight: 24px;ntmax-height: 24px;ntbackground-color: #F6F6F6;ntpadding: 0 8px;ntborder-top: 1px solid #DCDCDC;ntcolor: #707070;nttext-align: left;ntbox-sizing: border-box;n;nt}nnt.ad-slot__adtest-cookie-clear-link {nttntttfont-family: GuardianTextSans, Guardian Text Sans Web, Helvetica Neue, Helvetica, Arial, Lucida Grande, sans-serif;ntttfont-size: 0.75rem;ntttline-height: 1.35;ntttfont-weight: 400;nttt;nnttt/*nttt * Child elements (e.g. ) can use this variablenttt * to set the thickness of their underline.nttt *nttt * The thickness for each font type and weight is definednttt * in the underlineThickness object.nttt */nttt–source-text-decoration-thickness: 2px;ntt;ntttext-align: left;nttposition: absolute;nttright: 3px;ntttop: -22px;nttpadding: 0;nttborder: 0;nt}n"},{"name":"6gzy3t","styles":"nt&.ad-slot–fluid {nttmin-height: 250px;nttline-height: 10px;nttpadding: 0;nttmargin: 0;nt}n"}]}">