The Biden administration formally issued a record of decision Monday to green-light a massive Alaska natural gas pipeline and export project that's strongly opposed by environmental groups.
The Department of Energy's (DOE) finalized decision reaffirms the original 2020 approval of the project under the Trump administration but amends it to include additional environmental protections, according to federal filings. The $38.7 billion project – which involves an 807-mile pipeline that traverses the length of Alaska and an export terminal – would significantly boost U.S. natural gas exports to Asia.
Project developer Alaska Gasline Development Corporation (AGDC), a state-owned venture founded to ensure Alaskans benefit financially from the state's natural gas reserves, applauded the record of decision, saying it would enable the U.S. to boost energy supplies to allies.
"This order is terrific news for the Alaska LNG (liquefied natural gas) project," AGDC President Frank Richards said in April after the decision was first issued. "The Biden administration has reaffirmed the authorization for and climate benefits of Alaska LNG, which will provide Alaskans and U.S. allies with a significant source of low-emissions, responsibly produced energy consistent with international environmental priorities."
BIDEN ADMIN DELIVERS BLOW TO FOSSIL FUEL PROJECT IN VICTORY FOR ECO GROUPS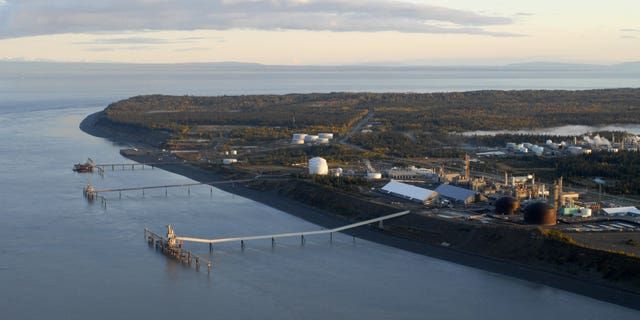 "This supplemental decision adds to the record of support for Alaska LNG and our work developing this important project continues," Richards added.
DOE's decision, which prevents venting carbon dioxide and reaffirms prior environmental requirements, ultimately allows the project developer to export LNG to non-free trade agreement nations. The Federal Energy Regulatory Commission approved construction of the project in May 2020, years after it was first proposed in 2014. 
Under the proposal, the developer would construct a pipeline that stretches from Alaska's natural gas-rich North Slope Borough to Cook Inlet in southern Alaska where an export terminal facility would be built. The project would be among the only LNG export terminals anywhere in the West.
BIDEN ADMIN RECEIVES BACKLASH FROM NEARLY TWO DOZEN GROUPS FOR MOVE CRACKING DOWN ON GAS STOVES
"It's the only major LNG project in America that's got all its permits – it's got state and federal. That's not easy to do," Sen. Dan Sullivan, R-Alaska, who has advocated for the project, told Fox News Digital in an interview. "It's got its export license. That's also not easy to do, from DOE. And, importantly, it's got federal loan guarantees. So, it's the only major project in our country that's got the full faith and credit of the United States of America backing it."
"These are great jobs. So, it's a win for the economy, win for American families, win for Alaskans getting clean-burning gas themselves, and helping our allies not only get off Russian oil and gas but flex the muscle that [President] Xi Jinping and the Chinese Communist Party are scared to death of: American energy dominance. Especially if we're sending it to Asia," he continued.
In October, Sullivan, U.S. Ambassador to Japan Rahm Emanuel and State Department senior energy adviser Amos Hochstein participated in a summit in Tokyo with Japanese officials to tout the benefits of the project.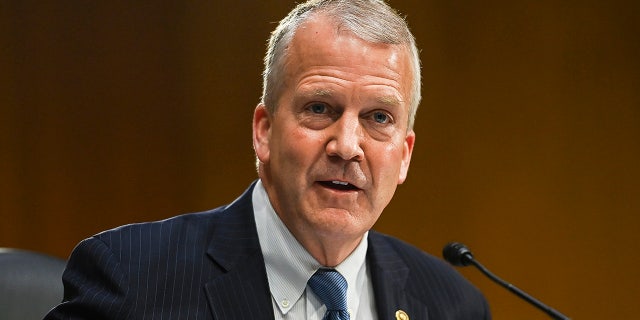 Overall, according to AGDC, the project would create 10,000 jobs during construction and 1,000 permanent jobs. It would also have an average throughput of 3.1 billion cubic feet (bcf) of LNG per day, much of which would be delivered to Alaskans. The DOE decision published Monday authorizes the project to export 2.6 bcf of LNG per day.
By comparison, the electric power sector across the entire West Coast — California, Oregon and Washington — consumed 2.4 bcf of natural gas per day last year, according to federal data.
"I've always said that there is a split within this administration. The rational people understand that we're going to need energy, American energy, for decades to come," said Sullivan. "They should be touting it more. But, you know, they have to kowtow to their far-left wing."
Environmental groups, meanwhile, blasted the Biden administration's approval of the project, saying it would lead to a massive uptick in greenhouse emissions.
CLICK HERE TO GET THE FOX NEWS APP
"Not only is the Alaska LNG project unnecessary given the widespread transition to clean-energy alternatives we expect to see in the years to come, it's also a major threat to ecosystems and climate in Alaska," said Erin Colón, a senior attorney for Earthjustice, an environmental law firm that has challenged the project in court.
"The state's greenhouse gas emissions from fossil fuels would balloon by nearly 30% over today's levels in an era where all other states will be scrambling to reduce greenhouse gas emissions," Colón added. "It's frustrating to see the Department of Energy rubber-stamp a massive fossil fuel infrastructure project of this kind when it clearly conflicts with the urgent need to tackle the climate crisis."