President Biden said Tuesday that the southern border with Mexico would be "chaotic for a while" as pandemic-era restrictions expire.
The administration is preparing for a surge in migrants, with 550 active-duty troops arriving there.
The president said that the White House was working to make the transition orderly.
"But it remains to be seen," he told reporters. "It's going to be chaotic for a while."
EL PASO MIGRANT SHELTERS PREPARE FOR INFLUX OF PEOPLE AS TITLE 42 SET TO EXPIRE
U.S. and international law give migrants the right to seek asylum. Since March 2020, the U.S. has used Title 42 of a public health law to expel migrants with no chance at asylum 2.8 million times on the grounds of preventing the spread of COVID-19.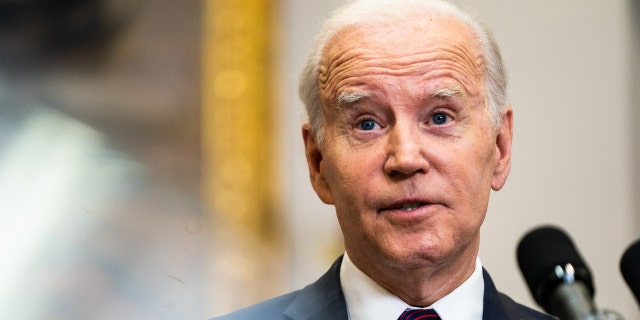 The restrictions end Thursday, and the Biden administration has said it is ready to deal with whatever occurs following its end – although also repeatedly criticizing Congress for not making changes to the nation's immigration system.
"We believe we have a robust process to deal with what is going to occur after Title 42 lifts. Again, we're using the tools that are available to us because Congress refuses to do their job as it relates to the border," White House press secretary Karine Jean-Pierre said Tuesday.
Last week, Biden defended his decision to send 1,500 troops to the border.
"I've asked this Congress for help in terms of what they need at the border," the president told MSNBC in a wide-ranging interview. "They need more agents. They need more people to clear people. They need more action."
TEXAS REP SAYS GUATEMALAN PRESIDENT TOLD HIM 80,000 MIGRANTS HEADED TO BORDER WITH TITLE 42 SET TO EXPIRE
Under federal law, active-duty troops cannot directly enforce U.S. laws, including immigration laws.
Military personnel will do data entry, warehouse support and other administrative tasks, according to Jean-Pierre.
The troops "will not be performing law enforcement functions or interacting with immigrants, or migrants," she said earlier this month. "This will free up Border Patrol agents to perform their critical law enforcement duties."
More than 900 additional soldiers, Marines and airmen will follow around the end of May, and roughly 2,500 National Guard members are already spread across all sectors of the border.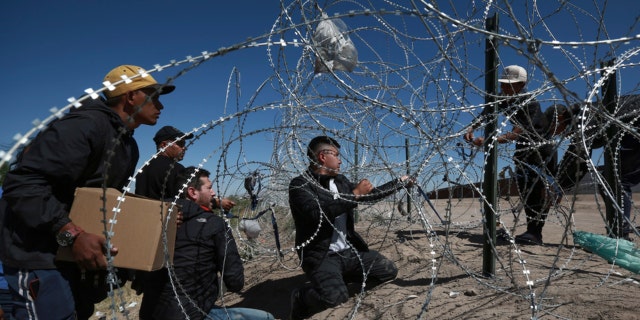 Migrants are already arriving, with about 100 people coming across the border early Tuesday. Agents in El Centro, California, stopped about 260 migrants a day over the course of a four- or five-day period through Sunday. Sector chief Gregory Bovino said that was up from about 90 day during the previous week.
CLICK HERE TO GET THE FOX NEWS APP
U.S. Border Patrol Chief Raul Ortiz said on Twitter Monday that his agents had stopped about 8,800 migrants a day over a three-day period. That was up from about 5,200 a day in March.
Even with the COVID-19 asylum restrictions still in place, the administration has seen record numbers of people crossing the border.
The U.S. is putting new policies in place to clamp down on illegal crossings while offering migrants a legal path to the U.S. if they apply online through a government app, have a sponsor and pass background checks.
"The border is not open," Homeland Security Secretary Alejandro Mayorkas said last week. "It has not been open, and it will not be open subsequent to May 11. And the smugglers who exploit vulnerable migrants are spreading misinformation. They are spreading false information, lies in a way to lure vulnerable people to the southern border and those individuals will only be returned."
Fox News' Adam Shaw and The Associated Press contributed to this report.