The family of a Chicago infant who was killed after two teens reportedly crashed a stolen car is speaking out after the minors were charged with only misdemeanors in connection with the deadly collision. 
Six-month-old Cristian Uvidia died from his injuries after the Sunday collision. The 14 and 17-year-old suspects reportedly stole a car and crashed into a pickup truck carrying the baby and other family members. 
Uvidia's aunt, Annelisse Rivera, slammed Cook County State's Attorney Kim Foxx and other officials involved in the investigation, while issuing a stark warning for other families as crime continues to soar in the Windy City. 
CHICAGO'S LORI LIGHTFOOT SLAMMED OVER CRIME PIVOT FOLLOWING OUSTING: 'TOO LITTLE TOO LATE' 
"I want to know how you [Foxx] sleep at night, seeing my nephew's picture on the screen, how you can see his face and think that his life meant absolutely nothing," Rivera said during "Fox & Friends" Tuesday. "You're putting salt on our wounds. You're not bringing us justice, and even if you do something, we will never get our baby back. Ever. There is no true justice."
"This is absolutely something that I don't wish upon my worst enemy, truthfully… it's not a matter of if this is going to happen to another child, it's when," she continued. "This is a daily occurrence in Chicago."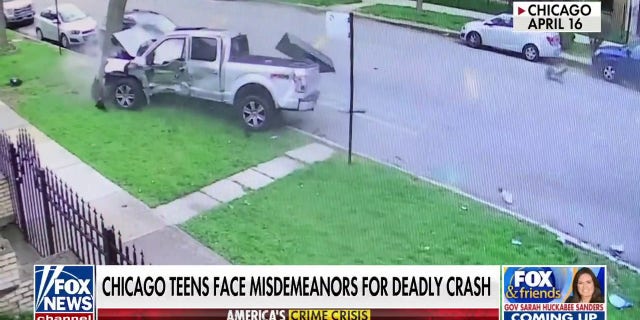 The accident was caught on surveillance video by local resident Shawn Walker. "The baby wasn't breathing, so we started doing CPR," Walker told Fox News 32. "My main thing was, so we could get a pulse back into the baby."
The collision also injured three other passengers, 34, 17, and 7 years old, who were treated at Stroger Hospital and expected to make a full recovery. 
Both teens were charged with misdemeanor criminal trespassing in connection with the collision, although officials could upgrade the charges after the investigation is complete. 
"It's absolutely ridiculous. It's really truthfully just the biggest slap on the wrist, but a slap in the face to us completely," Rivera said. "I don't know if the people who put these charges on them have kids, but I think anybody, even without children, can understand that this is wrong."
CLICK HERE TO GET THE FOX NEWS APP
"We are just as confused as the city of Chicago as to why this is occurring," she continued. It's really disheartening, and it's really upsetting."
Rivera said the family has yet to be contacted by Foxx or police in connection with the case. She accused Foxx of having as much "blood on her hands" as the perpetrators who crashed the stolen car. 
"It's been a week. We have not been contacted by either the police or the DA from what I have understanding of," Rivera said. "It's really, really disappointing, and it just doesn't make any sense… There's not even justice for the person whose car they stole. Criminal trespassing? What, did they trespass into the car? It makes absolutely no sense."
"It's beyond me, and I think that the district attorney has just as much blood on her hands as the people who did this," she continued. 
Fox News' Matteo Cina contributed to this report.