When I listen to voicemail messages, it feels more natural and convenient to play them on the speaker of my iPhone. Sometimes I am so caught up in the routine of catching up to calls that I don't notice how people around me are able to hear every detail of sometimes sensitive voicemail messages intended for me and not snoops.  
CLICK TO GET KURT'S CYBERGUY NEWSLETTER WITH QUICK TIPS, TECH REVIEWS, SECURITY ALERTS AND EASY HOW-TO'S TO MAKE YOU SMARTER
I've got the solution that helps me keep my private voicemail messages private. The trick is available to iPhone owners though many don't know about. It allows you to skip listening to your inbox full of voicemails altogether.
If I don't listen to my voicemail, how will I know what the message said?
This iPhone feature has been around for quite some time, yet many people still don't even realize it exists. With the Visual Voicemail feature, every voicemail left in your inbox comes with audio transcription. 
HOW TO FORCE YOUR LOVED ONE'S IPHONE TO RING IN AN EMERGENCY
When a person leaves a voicemail for you, your iPhone will automatically transcribe the message they've left you so that you can still know what they said without having to spend time listening to the message. 
You also will always know when you have a new voicemail, as the visual voicemail feature will show a blue dot next to any voicemail message that has yet to be opened.
How do I look at a voicemail transcription?
Open your Phone app
Tap on the Voicemail tab
Click on one of the messages left in your inbox
If your voicemail transcription feature is turned on, you should see a transcription of the message you selected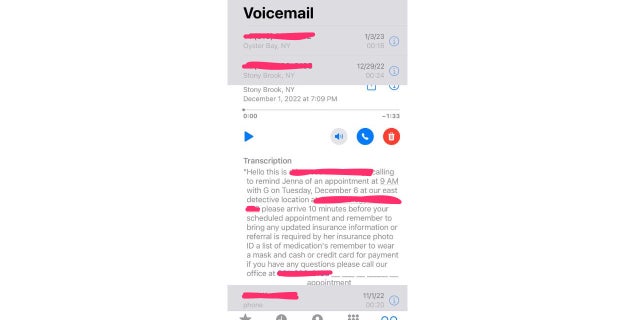 Something important is that your iPhone must have at least iOS10 or later and must be the model 6s and above to have this feature work.
WHATSAPP ENDING SUPPORT ON SOME DEVICES
Why are there spaces or incorrect words in my transcription?
Sometimes when reading a voicemail audio transcription, you will notice that were are a few words that don't make sense or some blank spaces with no words at all.
SIMPLE IPHONE HACK MAKES READING EVERY APP EASIER
This is because although the voicemail transcription feature does its best to transcribe the message exactly, it cannot guarantee 100% accuracy. If the person who left you the message has unclear speech, poor cellphone service, or speaks a language that your phone is not set to recognize, there may be a few incorrect or missing words in there.
I usually have no trouble piecing together the whole message even when some parts get misunderstood at times. You should too be able to get a general sense of the message without having to listen to the entire thing.
CLICK HERE TO GET THE FOX NEWS APP
Is this a feature that you have found helpful? We'd love to hear from you.
For more of my tips, subscribe to my free CyberGuy Report Newsletter by clicking the "Free newsletter" link at the top of my website.
Copyright 2023 CyberGuy.com. All rights reserved. CyberGuy.com articles and content may contain affiliate links that earn a commission when purchases are made.