Eagles one win from Super Bowl after crushing outmatched Giants
New York Giants 7-38 Philadelphia Eagles
Eagles will play Cowboys or 49ers in NFC championship game
Jalen Hurts shows no sign of injury to right shoulder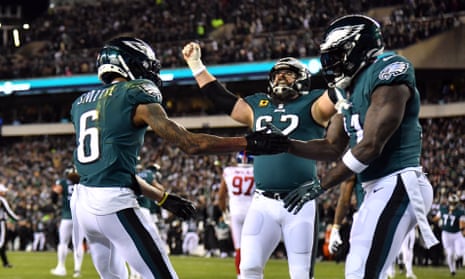 Jalen Hurts erased lingering doubts about his right shoulder by throwing two touchdown passes and running for a score during a dominant first half, and the Philadelphia Eagles overwhelmed the New York Giants 38-7 on Saturday night in their NFC divisional playoff game.
Philadelphia will host the NFC championship game next Sunday against either Dallas or San Francisco.
Hurts missed two late-season losses with a sprained right shoulder and then showed the Giants nothing in the regular-season finale when the Eagles ran a vanilla offense designed to protect the Pro Bowl QB.
Under bright postseason lights at the Linc, the Eagles unleashed an offense designed to clobber the Giants. Hurts dazzled early with his arm and Philadelphia's offensive line opened big holes for Miles Sanders and Kenneth Gainwell as the Eagles finished with 268 yards on the ground.
Hurts was 16 of 24 for 154 yards. He showed his shoulder was fine when he aired out a pass on the second play of the game and hit DeVonta Smith in stride for a 40-yard reception. Hurts was flawless on the drive, eventually finishing it with a 16-yard TD pass on a one-handed grab by tight end Dallas Goedert. The second drive was more of the same. Hurts had completions of 12 yards and nine yards en route to a TD pass to Smith.
It was 14-0 in the first quarter and the Giants already needed a standing eight count. New York turned the ball over on downs on their first possession, and Daniel Jones was intercepted by James Bradberry on their second.
Boston Scott scored his 11th touchdown against the Giants for a 21-0 lead. He has only 19 TDs in his career. Giants defensive coordinator Wink Martindale riled up Philly fans this week when he insisted Scott wasn't a "Giant killer."
Hurts wrapped the half with a five-yard touchdown run — he bobbled the snap but still coasted untouched into the end zone — for a 28-0 lead. There have been only four more lopsided first-half playoff shutouts in NFL history.
Gainwell finished with 112 yards on 12 carries, including a late 35-yard touchdown. Sanders had 17 rushes for 90 yards.
Coach Brian Daboll's Giants were discombobulated from the start. The Giants played nothing like the team that beat the Minnesota Vikings 31-24 last week for their first postseason win since their Super Bowl victory under Tom Coughlin 11 years ago.
Matt Brieda had an eight-yard TD run for the Giants in the third quarter. Daniel Jones was 15 of 27 for 135 yards and a pick.
Hurts ran, threw and directed the offense with the same authority as he did when he led the Eagles to a 14-1 start and won over a city that still wasn't sure about him in the preseason. In last year's playoff loss to Tampa Bay, Hurts threw two interceptions and was just 23 of 43 for 258 yards.
) can use this variablenttt * to set the thickness of their underline.nttt *nttt * The thickness for each font type and weight is definednttt * in the underlineThickness object.nttt */nttt–source-text-decoration-thickness: 2px;ntt;ntheight: 24px;ntmax-height: 24px;ntbackground-color: #F6F6F6;ntpadding: 0 8px;ntborder-top: 1px solid #DCDCDC;ntcolor: #707070;nttext-align: left;ntbox-sizing: border-box;n;nttposition: relative;ntt&.visible {ntttvisibility: initial;ntt}ntt&.hidden {ntttvisibility: hidden;ntt}nt}nt.ad-slot__close-button {nttdisplay: none;nt}nnt.ad-slot__scroll {nttposition: fixed;nttbottom: 0;nttwidth: 100%;nttntntttfont-family: GuardianTextSans, Guardian Text Sans Web, Helvetica Neue, Helvetica, Arial, Lucida Grande, sans-serif;ntttfont-size: 0.75rem;ntttline-height: 1.35;ntttfont-weight: 400;nttt;nnttt/*nttt * Child elements (e.g. ) can use this variablenttt * to set the thickness of their underline.nttt *nttt * The thickness for each font type and weight is definednttt * in the underlineThickness object.nttt */nttt–source-text-decoration-thickness: 2px;ntt;ntheight: 24px;ntmax-height: 24px;ntbackground-color: #F6F6F6;ntpadding: 0 8px;ntborder-top: 1px solid #DCDCDC;ntcolor: #707070;nttext-align: left;ntbox-sizing: border-box;n;nt}nnt.ad-slot:not[data-label-show='true']::before {nttcontent: ";nttdisplay: block;nttheight: 24px;nttvisibility: hidden;nt}nnt.ad-slot[data-label-show='true']:not(.ad-slot–interscroller)::before {nttcontent: attr(ad-label-text);nttdisplay: block;nttposition: relative;nttntntttfont-family: GuardianTextSans, Guardian Text Sans Web, Helvetica Neue, Helvetica, Arial, Lucida Grande, sans-serif;ntttfont-size: 0.75rem;ntttline-height: 1.35;ntttfont-weight: 400;nttt;nnttt/*nttt * Child elements (e.g. ) can use this variablenttt * to set the thickness of their underline.nttt *nttt * The thickness for each font type and weight is definednttt * in the underlineThickness object.nttt */nttt–source-text-decoration-thickness: 2px;ntt;ntheight: 24px;ntmax-height: 24px;ntbackground-color: #F6F6F6;ntpadding: 0 8px;ntborder-top: 1px solid #DCDCDC;ntcolor: #707070;nttext-align: left;ntbox-sizing: border-box;n;nt}nnt.ad-slot__adtest-cookie-clear-link {nttntttfont-family: GuardianTextSans, Guardian Text Sans Web, Helvetica Neue, Helvetica, Arial, Lucida Grande, sans-serif;ntttfont-size: 0.75rem;ntttline-height: 1.35;ntttfont-weight: 400;nttt;nnttt/*nttt * Child elements (e.g. ) can use this variablenttt * to set the thickness of their underline.nttt *nttt * The thickness for each font type and weight is definednttt * in the underlineThickness object.nttt */nttt–source-text-decoration-thickness: 2px;ntt;ntttext-align: left;nttposition: absolute;nttright: 3px;ntttop: -22px;nttpadding: 0;nttborder: 0;nt}n"},{"name":"6gzy3t","styles":"nt&.ad-slot–fluid {nttmin-height: 250px;nttline-height: 10px;nttpadding: 0;nttmargin: 0;nt}n"}]}">