Ex-NFL star Sharpe gets in heated half-time altercation with Grizzlies players
Shannon Sharpe gets in argument with Grizzlies in LA
Heated confrontation also involves father of Ja Morant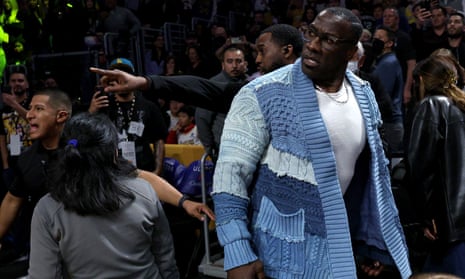 Hall of Fame football player Shannon Sharpe had a heated courtside conversation with Memphis Grizzlies players Ja Morant and Dillon Brooks and Morant's father at the end of the first half Friday night in a nationally televised game against the Los Angeles Lakers.
The Fox Sports personality exchanged words with Brooks throughout the first half and then yelled at Morant on the final possession of the second quarter. After the halftime buzzer sounded, Brooks yelled at Sharpe and Sharpe motioned toward Brooks.
Morant walked toward Sharpe at his courtside seat before center Steven Adams stepped in front of him.
Tee Morant, Ja Morant's father, also got involved in the conversation before security at Crypto.com arena separated everyone.
Sharpe, 54, yelled "I bet you won't!" at Tee Morant as security guards tried to break things up.
Sharpe and Tee Morant talked to security in the tunnels at the arena before returning to their seats when the second half started. They hugged at the end of the third quarter.
Sharpe, who has made no secret of his support of Lakers star LeBron James on his sports-opinion show Undisputed, spoke about the exchange in a half-time interview with ESPN reporter Dave McMenamin.
"They didn't want this smoke, Dave," Sharpe said. "They do all that talking and jockeying and I ain't about that jockeying. It started with Dillon Brooks. I said he was too small to guard LeBron. He said, 'Fuck me.' I said, 'Fuck you' back. He started to come at me and I said, 'You don't want these problems.' And then Ja came out of nowhere talking. He definitely didn't want these problems. Then the dad came and he obviously didn't want no problems.
"But I wanted anything they had. Don't let these fools fool you now."
) can use this variablenttt * to set the thickness of their underline.nttt *nttt * The thickness for each font type and weight is definednttt * in the underlineThickness object.nttt */nttt–source-text-decoration-thickness: 2px;ntt;ntheight: 24px;ntmax-height: 24px;ntbackground-color: #F6F6F6;ntpadding: 0 8px;ntborder-top: 1px solid #DCDCDC;ntcolor: #707070;nttext-align: left;ntbox-sizing: border-box;n;nttposition: relative;ntt&.visible {ntttvisibility: initial;ntt}ntt&.hidden {ntttvisibility: hidden;ntt}nt}nt.ad-slot__close-button {nttdisplay: none;nt}nnt.ad-slot__scroll {nttposition: fixed;nttbottom: 0;nttwidth: 100%;nttntntttfont-family: GuardianTextSans, Guardian Text Sans Web, Helvetica Neue, Helvetica, Arial, Lucida Grande, sans-serif;ntttfont-size: 0.75rem;ntttline-height: 1.35;ntttfont-weight: 400;nttt;nnttt/*nttt * Child elements (e.g. ) can use this variablenttt * to set the thickness of their underline.nttt *nttt * The thickness for each font type and weight is definednttt * in the underlineThickness object.nttt */nttt–source-text-decoration-thickness: 2px;ntt;ntheight: 24px;ntmax-height: 24px;ntbackground-color: #F6F6F6;ntpadding: 0 8px;ntborder-top: 1px solid #DCDCDC;ntcolor: #707070;nttext-align: left;ntbox-sizing: border-box;n;nt}nnt.ad-slot:not[data-label-show='true']::before {nttcontent: ";nttdisplay: block;nttheight: 24px;nttvisibility: hidden;nt}nnt.ad-slot[data-label-show='true']:not(.ad-slot–interscroller)::before {nttcontent: attr(ad-label-text);nttdisplay: block;nttposition: relative;nttntntttfont-family: GuardianTextSans, Guardian Text Sans Web, Helvetica Neue, Helvetica, Arial, Lucida Grande, sans-serif;ntttfont-size: 0.75rem;ntttline-height: 1.35;ntttfont-weight: 400;nttt;nnttt/*nttt * Child elements (e.g. ) can use this variablenttt * to set the thickness of their underline.nttt *nttt * The thickness for each font type and weight is definednttt * in the underlineThickness object.nttt */nttt–source-text-decoration-thickness: 2px;ntt;ntheight: 24px;ntmax-height: 24px;ntbackground-color: #F6F6F6;ntpadding: 0 8px;ntborder-top: 1px solid #DCDCDC;ntcolor: #707070;nttext-align: left;ntbox-sizing: border-box;n;nt}nnt.ad-slot__adtest-cookie-clear-link {nttntttfont-family: GuardianTextSans, Guardian Text Sans Web, Helvetica Neue, Helvetica, Arial, Lucida Grande, sans-serif;ntttfont-size: 0.75rem;ntttline-height: 1.35;ntttfont-weight: 400;nttt;nnttt/*nttt * Child elements (e.g. ) can use this variablenttt * to set the thickness of their underline.nttt *nttt * The thickness for each font type and weight is definednttt * in the underlineThickness object.nttt */nttt–source-text-decoration-thickness: 2px;ntt;ntttext-align: left;nttposition: absolute;nttright: 3px;ntttop: -22px;nttpadding: 0;nttborder: 0;nt}n"},{"name":"6gzy3t","styles":"nt&.ad-slot–fluid {nttmin-height: 250px;nttline-height: 10px;nttpadding: 0;nttmargin: 0;nt}n"}]}">