One legal expert torched the possibility of Manhattan District Attorney Alvin Bragg arresting former President Donald Trump – calling it "Banana Republic sort of stuff" as he reportedly weighs an indictment.
Trump revealed over the weekend he expects to be arrested on Tuesday in connection with the "hush money" payments to porn star Stormy Daniels back in 2016, citing "illegal leaks" from Bragg's office and the Justice Department.
But many legal experts have cast doubt on the potential indictment, often arguing there is little legal precedent, alongside political motivation, surrounding the case.
TRUMP VOLUNTARILY DISMISSES SECOND LAWSUIT AGAINST NEW YORK ATTORNEY GENERAL LETITIA JAMES
Former federal prosecutor Francey Hakes accused Bragg of weaponizing the law politically, and acting like a "king," in order to indict the former president.
"This is a really serious time because this is Banana Republic sort of stuff," Francey said during "Fox & Friends Weekend." "Using the law as a weapon against a political opponent is so wrong. It's one of the main reasons that the United States of America formed and broke away from England because of all the injustice in the criminal justice system at the time from the king, and that's what's happening here."
"You've got someone acting like a king in Alvin Bragg, who's decided that because he doesn't like a political opponent, he's going to twist the law into a pretzel in order to get him," she continued.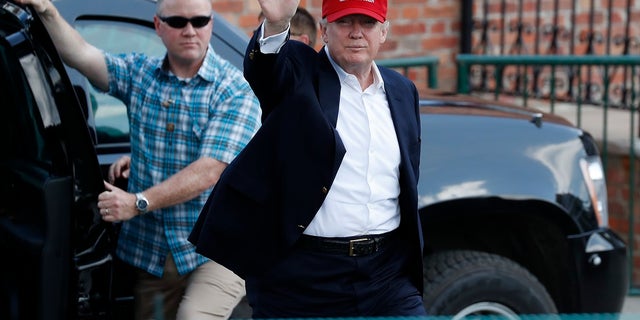 "NOW ILLEGAL LEAKS FROM A CORRUPT & HIGHLY POLITICAL MANHATTAN DISTRICT ATTORNEYS OFFICE, WHICH HAS ALLOWED NEW RECORDS TO BE SET IN VIOLENT CRIME & WHOSE LEADER IS FUNDED BY GEORGE SOROS, INDICATE THAT, WITH NO CRIME BEING ABLE TO BE PROVEN, & BASED ON AN OLD & FULLY DEBUNKED (BY NUMEROUS OTHER PROSECUTORS!) FAIRYTALE, THE FAR & AWAY LEADING REPUBLICAN CANDIDATE & FORMER PRESIDENT OF THE UNITED STATES OF AMERICA, WILL BE ARRESTED ON TUESDAY OF NEXT WEEK. PROTEST, TAKE OUR NATION BACK!," Trump wrote on Truth Social, Saturday.
The former president has been under investigation for years for the $130,000 payment made to Daniels at the end of the 2016 election cycle. His former lawyer, Michael Cohen, facilitated the exchange and was reimbursed for the payment over time.
MANHATTAN DA'S OFFICE 'ASKED FOR A MEETING' WITH LAW ENFORCEMENT AHEAD OF POSSIBLE TRUMP INDICTMENT
Prosecutors could argue the money was a violation of campaign finance laws, but critics argue, including Trump's attorney Joe Tacopina, that the funding was "personal" money and not related to the campaign.
Tacopina and other legal experts have argued Bragg's potential indictment hinges on unchartered legal waters, further indicating the political nature of the potential arrest.
"It's hard to say it's anything but political when you look at a DA in Manhattan, who drops over 50% of felony charges in that crime-ridden city down to misdemeanors, and yet he's managed to try to find a way outside the statute of limitations where cases would normally be barred, to bootstrap a felony into a misdemeanor that's maybe a state crime, maybe a federal crime," Hakes said.
"The feds declined to prosecute, the Federal Election Commission declined to prosecute, yet Alvin Bragg thinks he has a crime here," she continued. "I think it seems political to me."
Bragg's office has not yet commented or confirmed the news of Trump's potential arrest.
NEW YORK PROSECUTORS SIGNAL TRUMP MAY FACE CRIMINAL CHARGES FROM STORMY DANIELS SCANDAL
Former Whitewater deputy counsel Sol Wisenberg, who noted he is a critic of the 45th president, echoed Hakes' sentiment that Bragg's case is "obviously political" in nature.
In a subsequent appearance on 'Fox & Friends Weekend,' Sunday, he called the potential arrest "preposterous."
"The question to ask yourself in a case like this… would a case like this be brought against anybody else, whether he or she be president, former president or a regular citizen? The answer is… no," Wisenberg said.
"You can debate all day long whether or not President former President Trump should be indicted related to the records at Mar-a-Lago; whether or not he should be indicted with respect to January 6 incitement of lawless activity… Those are real crimes if they occurred, and he committed them," he continued.
"This, is preposterous."
CLICK HERE TO GET THE FOX NEWS APP
Critics have also been quick to note Bragg may be unable to indict the former president if the statute of limitations has run out.
But Hakes explained that Bragg may be able to curtail that concern and proceed with an indictment if there are additional conspiracy charges, she argued.
Regardless, Wisenberg called the potential charges targeting Trump a "weak sister case" while noting significant legitimacy concerns.
"Number one, because it would never be prosecuted this late against anybody else," Wisenberg said. "Number two, it is in most instances under New York state law, a misdemeanor… from what we've heard, this is about [the] falsification of records that can only be a felony if the records are falsified to conceal another felony."
"So there are real questions here, whether or not it ultimately stands up because of statute of limitations… and other concerns," he continued. "It is a weak sister case."