New York Gov. Kathy Hochul declared a state disaster emergency late Tuesday ahead of the expiration of Title 42, as the Big Apple is to begin relocating migrants to its northern suburbs.
The governor's office said the executive order is intended to boost support for "asylum seekers" by expanding state and municipal procurement capabilities.
It will allow New York State to mobilize an additional 500 members of the National Guard, who are currently providing logistical and operational support at New York City's Port Authority Bus Terminal and shelter sites, bringing the total mobilization to about 1,500 service members.
The order will also allow the state to deploy more than $1 billion to support New York City's aid efforts included in the state budget for the 2024 fiscal year, the governor's office said.
'NOTICE OF VIOLATION' SENT TO NEW YORK HOTEL SEEMINGLY PREPARED TO RECEIVE INFLUX OF MIGRANTS
That includes $741 million for shelter costs, $162 million to support the ongoing National Guard presence, $137 million in health care through NYC Care, $26 million in public assistance, $25 million for the voluntary relocation of families to permanent housing, an additional $5 million for enhanced support through the Office of Temporary and Disability Assistance, and $10 million for legal assistance through the Office of New Americans.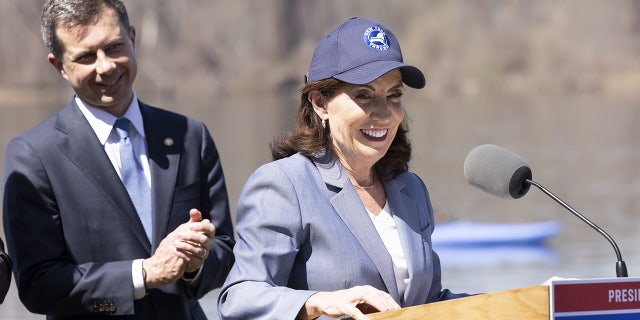 "For more than a year, we have been working closely with Mayor Adams to provide support and advocate for federal resources to address the large numbers of asylum seekers arriving in New York City," Hochul said in a statement Tuesday. "With Title 42 set to expire, the circumstances on the ground are expected to change significantly and this Executive Order will be an important part of our coordinated response. I have spoken to Mayor Adams and County Executives throughout New York as we work to address this situation."
New York City alone is currently providing temporary housing for 36,738 migrants from the southern border.
That number has increased by 12,279 individuals since January 2023 and by an additional 1,578 individuals in just the last week, Hochul's order notes. Upon the expiration of Title 42 Thursday, Hochul expects the city and state of New York to receive several thousand additional people seeking shelter each week.
New York City Mayor Eric Adams is rolling out a controversial plan starting on Wednesday to bus migrants to the Big Apple's predominantly Republican controlled northern suburbs.
On Wednesday alone, New York City is expected to send about 30 migrants to Rockland and Orange Counties each for starters, senior Adams administration official Tiffany Raspberry told city and county officials according to the New York Daily News.
NEW YORK COUNTIES DECLARE EMERGENCY AS MAYOR ADAMS PLANS TO BUS ILLEGAL MIGRANTS FROM THE BORDER THEIR WAY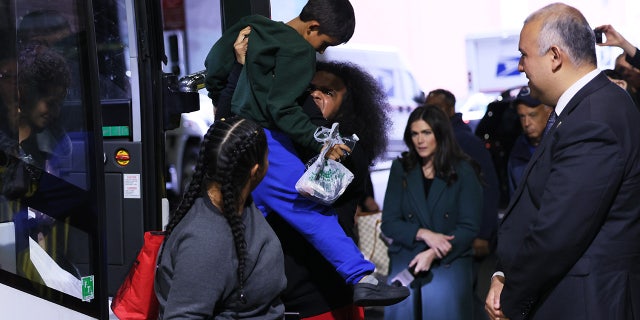 Both counties have declared states of emergencies in response to the expected arrivals, as New York City reportedly confirmed plans to relocate at least 300 migrants to hotels in the towns of Orangetown and Newburgh and pay for them to stay for four months. Rockland County sued to halt the transfer of migrants from New York City and was granted a temporary restraining order Tuesday night, though Adams' spokesman Fabien Levy said the mayor's administration will allow the Orangetown hotel to decide for itself whether it will accept migrants on Wednesday.
"But our plan is still to move a small number of asylum seekers to Orange County tomorrow, barring any security issues," Levy said, according to Daily News.
Levy deemed Republican officials in Rockland "incapable of demonstrating a shred of the humane and compassionate care New York City has shown."
"The Rockland and Orange County executives have sadly not met their moral mandate and have responded with opposition when asked to care for less than ¼ of 1% of the asylum seekers who have come to New York City," Adams' spokesman said in a statement obtained by Daily News, adding that New York City needs "elected officials around the state and country to do their part and emulate the humane and compassionate approach New York City has taken over the past year."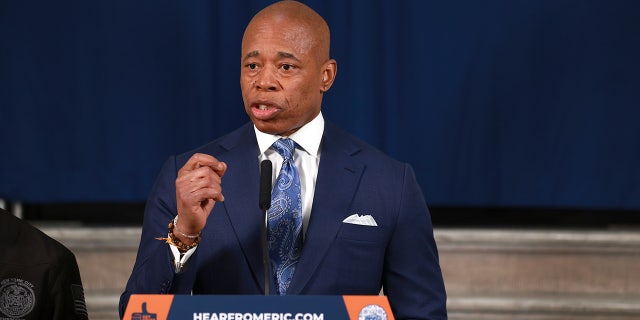 Rockland County Executive Ed Day, a Republican, criticized Adams for engaging in "human trafficking of the worst kind."
In response, Levy said Day had "shown he is not a leader" and hurled "racist rhetoric and reprehensible threats."
CLICK HERE TO GET THE FOX NEWS APP
Teresa Kenny and Gil Piaquadio, the town supervisors in Orangetown and Newburgh, respectively, both said New York City officials would essentially be setting up shelters in their hotels in violation of town code preventing extended stays. In a statement on Tuesday, Piaquadio added that he expressed concern for residents' safety to Adams last week regarding background checks on the 60 single male "asylum seekers" the Democratic New York City mayor had planned to send to Newburgh.
Piaquadio also noted the Crossroads Hotel, which Adams was eyeing for arrivals, was located adjacent to a residential zone with very few services within walking distance.