Residents in Eugene, Oregon, are at their wits end over RV "squatters" in their neighborhood and say they have been dealing with the issue for two years. 
"I'm always afraid that we might piss the wrong person off by telling them to leave and they might come back and do something like shoot up my house," resident Donielle Cline told KEZI 9 News this week about people parking their RVs next to her housing unit. 
 "I don't know because I don't know these people."
The squatter issue, in the area of Green Lane and Elementary Lane in Eugene, stems from a bus stop put in on Elementary Lane in 2020 in addition to large parking spaces that are not being used properly and have been a magnet for people who live in their RVs.
HOMEOWNER ISSUES DIRE WARNING AFTER 'SCARRING' ORDEAL WITH SQUATTER: 'IT COULD BE YOUR STORY TOMORROW'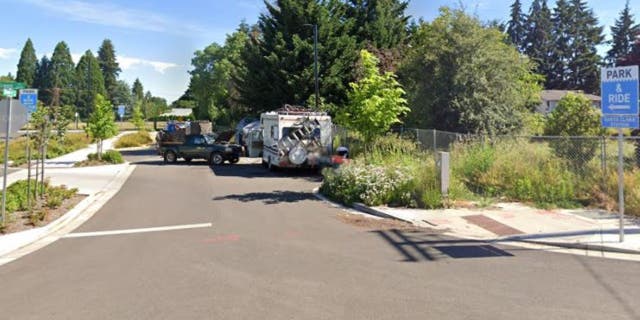 "The problem is right here where we are standing and the city put double length RV length parking spots a few feet from our front door," Eugene resident Laine Radcliffe told the outlet. "It would be great if these two RV length parking spots were just removed, because I really don't see the point in it. They're camping spots, put right up against our fence."
On Sunday night, the residents say one of the RV dwellers broke a lock and drove the vehicle into a gated area on private property.
Radcliffe said since the new road opened next to his complex, he has seen drug use as well as people in engaging in sexual acts within earshot of children.
REALTY COMPANY: SQUATTERS MAKING LIFE MISERABLE FOR PROPERTY OWNERS, PHILADELPHIA OFFICIALS DON'T SEEM TO CARE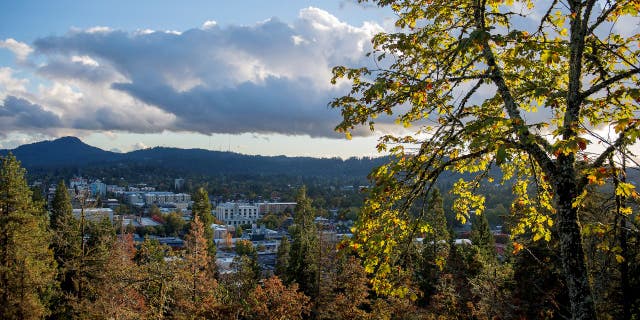 "One time someone was doing that, they were just sitting on our fence, and I said, 'dude you need to get off and leave, this is private property,' and he began swinging a metal baseball bat at me and proceeded to spit blood on me," Radcliffe said.
"No one is legally supposed to be camping here, no one is supposed to be giving fellatio in the corner, no one's supposed to be shooting up heroin in plain sight, no one's supposed to be trespassing on our property."
Kelly McIver, communications manager for Unhoused Response in the city of Eugene, told Fox News Digital on Thursday that the area in question was "cleared out" by police and parking enforcement this week. Additionally, McIver said that a member of his team confirmed via a photo from the scene on Thursday that the RVs are still gone.
DELAWARE MAN LOSES $125,000 PROPERTY TO SQUATTER NEIGHBOR AFTER TRYING TO REMOVE GOAT PEN SHE BUILT ON IT
McIver told Fox News Digital that the "issue tends to be cyclical in many locations in Eugene."
"Our team has been to this area before, and the same vehicles have not been in the same place perpetually," McIver said. 
"City code stipulates that vehicles cannot be stored on the street for more than 72 hours. We rely on residents to report suspected violations, and then our team will respond to mark and warn per code as soon as they are able. Sometimes that may be shortly after a report is made, other times it may be longer because of a high volume of reports in locations across the City."
CLICK HERE TO GET THE FOX NEWS APP
McIver added, "Often vehicles will move after being marked, but may move to another street and the process begins again. Sometimes new vehicles will occupy a vacated spot, and the recurring nature is what is so frustrating to neighbors."
"The challenge for the city is that we have to enforce the Code equitably without prejudice for what a person or a vehicle 'looks' like or what things might happen at the location," McIver said. "There is a legitimate need for residents, visitors, businesses, etc. to park on unregulated curbs, so it's not always appropriate to just make areas 'no parking' with an immediate tow."