Rich Los Angelenos are scooping up expensive guard dogs at a fast pace as concerns about crime continue to plague the region without regard for boundaries that separate neighborhoods – dangerous or affluent.
Arteom Bulgadarian, who runs an aerospace manufacturing company, has firearms and security surveillance cameras all over his 5,000-square-foot, six-bedroom home in Sherman Oaks that was once owned by former Dodgers star Yasiel Puig, the Los Angeles Times reported. The home was burglarized of $170,000 worth of jewelry and other items in 2017 while he was out of town playing in Game 7 of the World Series.
Bulgadarian also has Rocky, a 2-year-old German shepherd, which was bred, selected and trained to be a high-performance protection dog, according to the Times.
LA PROSECUTOR SUSPENDED FOR MISGENDERING TRANS CHILD MOLESTER SPEAKS OUT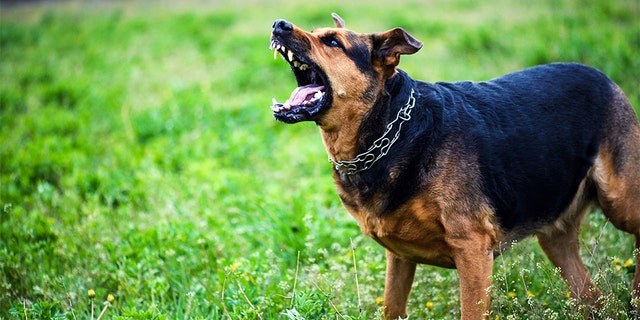 "What's the price that you would put for your family's security, especially when that particular house has been burglarized?" he said. "Seventy-thousand dollars — you amortize it over 10 to 15 years, whatever the dog's life is, and it's not that big of a price tag."
Many of the animals being used to protect the homes of the residents inside are typically German shepherds, Belgian Malinois, Dobermans, cane corsos or a mix of those breeds. They can cost upwards of hundreds of thousands of dollars and are marketed as "personal canine bodyguards" and "executive protection dogs.
Unlike a police or military dog, protection dogs acts as a family pet first but is prepared to attack an assailant, if necessary, the Times said.
"Every celebrity client, at one time or another, and billionaire has said to me these exact words: 'What about a dog?'" said Kris Herzog, owner of the Bodyguard Group of Beverly Hills. They're status symbols and over time can even be cost saving: "People don't want to pay $400 an hour for two off-duty police officers."
Citywide, burglaries are down 10.2 % from the same time in 2022, but property theft was up nearly 8% as of Feb. 18, according to LAPD data. Still, property crimes, high-end smash-and-grab thefts and follow-home robberies have raised concerns from many.
Two protection dog brokers told the newspaper a spike in interest came after the killing of Jacqueline Avant in her Beverly Hills home in 2021.
CLICK HERE TO GET THE FOX NEWS APP
Tammy Parkinson, 47, purchased a German shepherd named Koda as a way to keep safe.
"The criminals have more rights than we do," Parkinson said. "They're just being released left and right; there's no consequences. So I'm like, you know what, it's better at this point to have the protection dog in case something was to happen. Trust me, they're gonna want the dog bite rather than the gunshot."