Sen. Joe Manchin, D-W.V., took a swipe at the "open press system" in the U.S. during a panel discussion at the World Economic Forum.
On Tuesday, Manchin was joined alongside several American politicians at the annual global event in Davos, Switzerland. They were asked by the moderator, who cited the 2022 midterms that did not result in a red wave as expected, whether they believe political attitudes in the U.S. are changing, particularly when it comes to the polarization.
Democratic Illinois Gov. J.B. Pritzker responded by saying "it still feels very partisan to me."
"We find ways to work together to get things done… but it is very hard," Pritzker said. "I mean, especially when you have people who deny reality who are holding office. I mean, literally people who are, you know, believe in space lasers… and have very strange views about, you know, about what we ought to be doing as a country. There still are people in the GOP caucus who are very pro-Russia. And I wonder about that in this day and age, in this moment. You know, it's not being critical of all Republicans, but I just don't know where that stuff comes from other than QAnon and- I don't know."
SEN. RON JOHNSON, NBC'S CHUCK TODD AND THEIR HISTORY OF EXPLOSIVE 'MEET THE PRESS' BATTLES: 'I'VE HAD ENOUGH'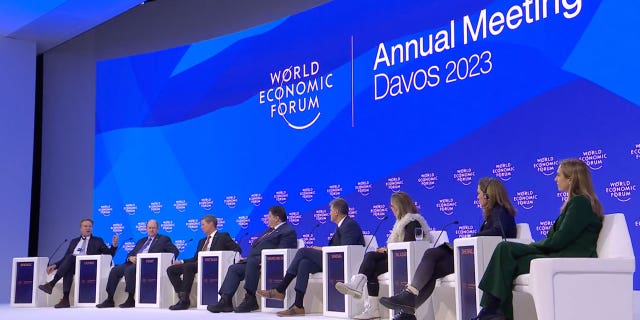 "Let me just say real quick- the American people, basically, I think are tired and very, very upset with how the operations are being going whether it could be in extreme states or extreme Congress that we have," Manchin chimed in. "The problem that we have is the open press system and basically all the platforms. So if you're able to have five platform, social platforms, you can basically personify the extremes as somebody who is extremely right or extremely left, and it seems like that is the majority speaking. They're not the majority, but they're basically driving everybody to make a decision."
FORMER CNN HOST BRIAN STELTER SLAMMED FOR HOSTING DAVOS PANEL ON DISINFORMATION: 'REASON WHY HE'S UNEMPLOYED'
He continued, "What side are you on? Are you on this side or this side? And in America, there's only one side: the American side. It's not the Republican side or Democrat, we should be coming together to solve the problems from a different angle, but the problem's are the same, but the bottom line is we don't. We try to basically put blame on- 'That's your problem. That's not mine. So it's your fault.' That's not who we are."
"Our democracy will correct itself. The public and constituents will command that and demanded it that we correct it and come back to that sensible center," Manchin added.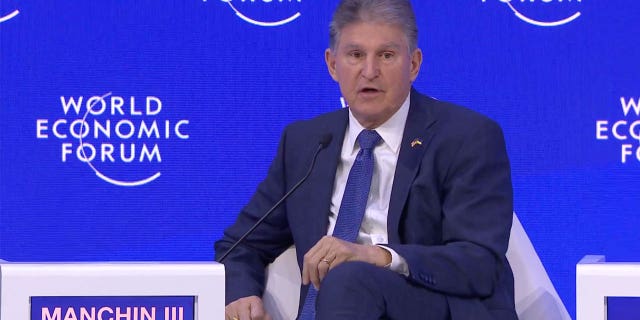 Critics slammed Manchin's comments on social media.
"One of the (many) reasons we must focus more on Davos is because our political & financial elite hunger for validation from the global elite. Just as yesterday's Marxist academic theory becomes today's dogma, so too does a Davos panel today become tomorrow's regulatory framework," former Trump adviser Stephen Miller tweeted.
JOHN KERRY MOCKED FOR SPEECH ON WEF'S 'ALMOST EXTRATERRESTRIAL PLAN' TO SAVE THE PLANET: 'LIBERAL DELUSIONS'
"Dude needs to be run out in 2024," conservative commentator Ned Ryun reacted.
Manchin's office did not immediately respond to Fox News' request for comment.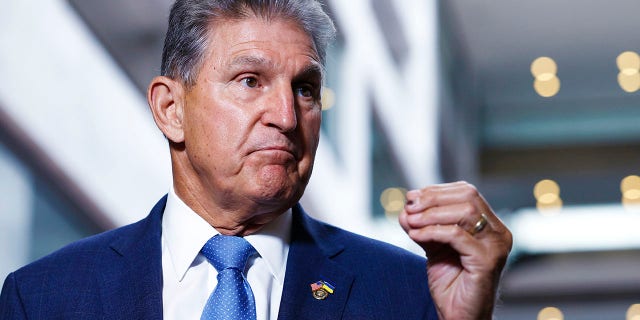 CLICK HERE TO GET THE FOX NEWS APP
Joining Manchin and Pritzker at the World Economic Forum panel include Senate colleagues Kyrsten Sinema, I-Ariz. and Chris Coons D-Dela.,, Reps. Maria Elvira Salazar, R-Fla., and Mikie Sherrill, D-N.J. and Republican Georgia Gov. Brian Kemp.