After President Biden finally met with congressional leaders nearly 100 days after his last sit-down with House Speaker Kevin McCarthy, R-Calif., it has become clear that if the U.S. is unable to meet its debt obligations, the president will be at fault, Sen. John Kennedy, R-La., said Tuesday.
Kennedy told "Hannity" that McCarthy has the only plan on the table to address the debt limit as it approaches its threshold.
"Sean, I confess I don't understand President Biden," Kennedy said. "There are times that I think President Biden is being advised by the marketing team at Budweiser."
Kennedy said Biden's poll numbers predictably continue to fall because the American people feel "chewed up, spit out and stepped on" by crises like inflation, crime and the open southern border.
HOUSE PASSES MCCARTHY'S DEBT CEILING BILL BY TWO VOTES; FOUR REPUBLICANS VOTE AGAINST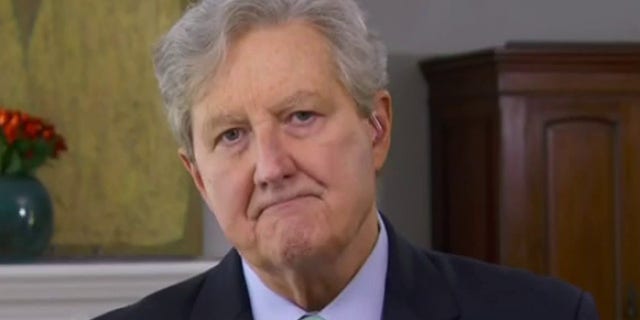 The lawmaker said McCarthy provided Biden a prime opportunity to demonstrate leadership on the debt ceiling debate – adding if Biden doesn't negotiate in good faith and the U.S. defaults, the commander-in-chief is a "smoked turkey."
"I don't understand why he doesn't understand that. Today they met finally. And what did the president do? He said, 'Well, I'm going to turn it over to my staff. I don't like your bill even though it's the only plan on the table, I'm going to turn it over to my staff, and we may meet again.' — Are you kidding me?" Kennedy said.
Kennedy suggested many Americans are losing faith in Biden's ability to manage the country, remarking polls show "most Americans think the president is older than the Adirondack Mountains and that he's not fit to be president."
SENATE REPUBLICANS, INCLUDING MCCONNELL, SAY DEBT LIMIT FIGHT IS BETWEEN MCCARTHY AND BIDEN
The senator concluded Biden's best course of action would be to tell McCarthy he appreciated his overtures to meet and discuss the pressing debt issue seriously, and to proverbially "clear [his] calendar" until a substantive agreement can be forged.
"We are trading in our future for today with all the spending. This spending and debt accumulation is the underlying reason we have inflation… I don't want to default on America's debt, but this is an extraordinary opportunity for us to solve two problems at once. And I just don't understand why President Biden will not see it like that, because let's face it, right now McCarthy's plan is the only plan on the table, and if the president rejects it and causes America to default on its debt, he is a smoked turkey and America is hurt badly," Kennedy said.
Kennedy said the president was essentially betting the slim House Republican majority could not coalesce on a debt limit bill and therefore could be faulted if a crisis occurred.
"Well, they did – and now [Biden] has got to deal with it."