San Francisco State University Athletics Director Stephanie Shrieve-Hawkins blamed "gender bias" for those upset over transgender athletes competing alongside biological women, an issue that has become increasingly concerning for some as the push for inclusivity intensifies.
"You'll notice that especially transgender male to female is the one that people are focusing most on because it's a gender bias in a way…" Shrieve-Hawkins said, according to an article published by the Golden Gate Express, last Friday.
"What does that say about women, that women aren't strong?" she continued.
RILEY GAINES 'AMBUSHED AND PHYSICALLY HIT' AFTER SAVING WOMEN'S SPORTS SPEECH AT SAN FRANCISCO STATE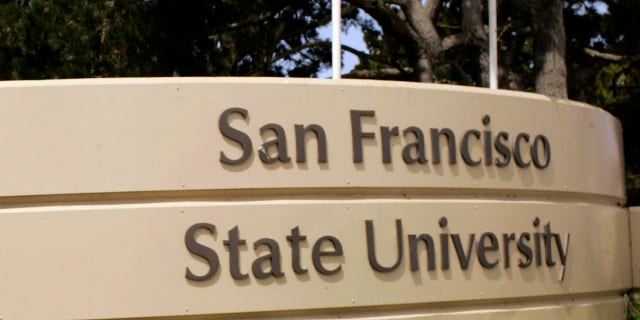 Shrieve-Hawkins also pointed to performing arts – particularly dancing – and argued that such competitions lacked the same outrage. 
"It's just with this athletics [perspective], we live in this society that's so competitive," she claimed, adding that criticizing the presence of trans athletes hinders "inclusivity."
The comments come after ex-NCAA swimmer Riley Gaines' appearance on SFSU's campus as part of a "Save Women's Sports" event sponsored by Turning Point USA and the Leadership Institute sparked backlash from critics and invited protesters to lash out at her.
SWIMMER RILEY GAINES SLAMS ESPN FOR LIA THOMAS WOMEN'S HISTORY MONTH SEGMENT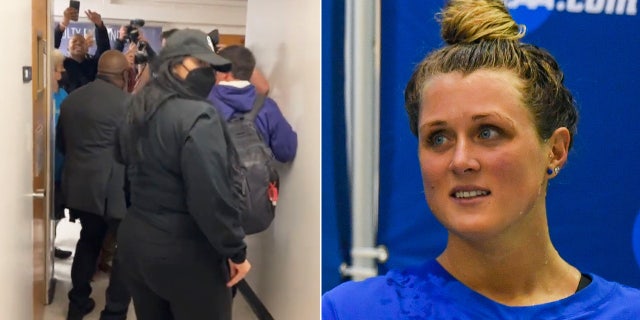 Gaines claimed she was physically ambushed during the event and later shared video of police escorting her out of the venue on Twitter.
The counterprotest, organized by SFSU's Queer & Trans Resource Center, aimed to celebrate trans athletes with a "Queer and Trans Sports Mixer," according to the Golden Gate Express.
Its organizers viewed the event as a "respectful and peaceful response" to Gaines' event and, in a flyer on Instagram, invited people to "celebrate, learn about, and/or join queer and trans sports teams in the bay area" or on-campus.
RILEY GAINES' AGENT DEMANDS EXPULSION OF SAN FRANCISCO STATE STUDENTS INVOLVED IN 'ASSAULT'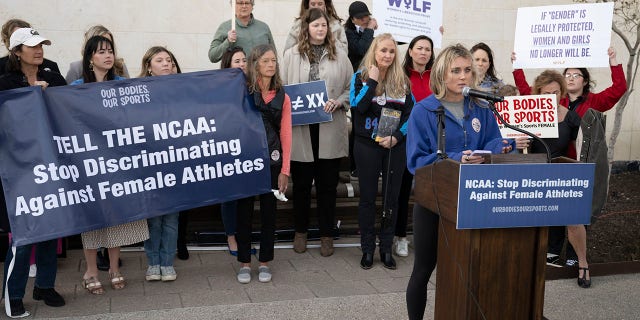 "Women's sports don't need saving, but we sure do need to uplift our beautiful sporty community!" the caption read in part.
In a statement previously provided to Fox News, however, a Turning Point USA spokesperson noted that unruly protesters "rushed in when the event was over."
The University Police Department (UPD) at San Francisco State University told Fox News last Friday: "We are conducting an ongoing investigation into the situation. There were no arrests related to the event. The disruption occurred after the conclusion of the event which made it necessary for UPD officers to move the event speaker from the room to a different, safe location."
Fox News Digital reached out to Shrieve-Hawkins for comment, but did not receive an immediate response.