It's unclear exactly where there's a "court" for American presidents. What is equally vexing is the geo-position of a theoretical political "ball" which one could hypothetically volley into that presidential court.
But one thing is unambiguous.
It is, suffice to say, that after the House of Representatives narrowly approved a Republican plan to shave spending and lift the debt ceiling, the aforementioned "ball" is definitely rolling around in President Biden's amorphous "court."
The clichés about Mr. Biden's disposition on the debt limit flow like a river. President Biden is now "on the clock." To hear House Speaker Kevin McCarthy, R-Calif., tell it, the president has avoided him like the plague for three months on the debt ceiling. Hope springs eternal for President Biden and McCarthy's May 9th huddle at the bargaining table.
Just once, I want to see this mythical "bargaining table." But alas, I suspect the bargaining table is as mysterious as the "ball" we discussed which is now somewhere in that mysterious, executive branch "court."
REPUBLICANS HAVE THE UPPER HAND OVER DEMS IN DEBT CEILING NEGOTIATIONS, BUDGET EXPERT SAYS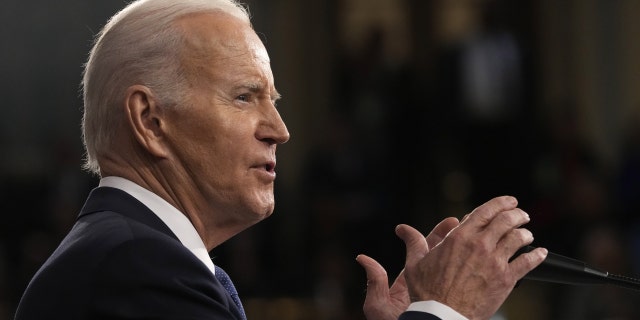 There hasn't been this much discussion about a "court" and the presidency since Jimmy Carter personally oversaw scheduling of the White House tennis court in the late 1970s.
But, it's now President Biden's move in the debt ceiling drama. McCarthy wasn't a guest at the White House State Dinner the President hosted last week for South Korean President Yoon Suk Yeol. The House is out for a week. McCarthy traveled to Israel to speak to the Knesset. So negotiations have had to wait until May 9th at the earliest. 
Historically, what will it take to spur action?
A market shock? An effort by the ratings agencies to downgrade the credit worthiness of the United States? Another banking issue? Remember, Standard and Poor's knocked down the U.S. government's credit rating in the summer of 2011 – but only after Congress finally raised the debt ceiling following a multi-week skirmish. S&P downgraded the federal government because Congress infused so much drama into the mechanics of lifting the debt ceiling. S&P said lawmakers didn't imbue the system with confidence.
Today, it could be the Congressional Budget Office anticipating a greater chance that the Treasury would run out of funds by June. 
SCHUMER REJECTS HOUSE DEBT CEILING BILL, PLANS HEARINGS TO 'EXPOSE' GOP'S 'RECKLESS LEGISLATION'
"Unfortunately, I think we are close to where we were in 2011," said Sen. Martin Heinrich, D-N.M. "And that cost us 70 basis points at the time. So this is truly a hot stove and we need to raise the debt limit because in this country we pay our bills."
House Republicans may have passed their package on a narrow basis, losing only four votes. Republicans were optimistic early last week that they could muscle McCarthy's plan to passage. But by Tuesday, senior Republicans weren't so sure.
"I was more optimistic yesterday than I am today," said one senior GOP source.
It was about the math.
It's natural for the vote count to inch closer to peril when a big vote arrives. Leaders must typically execute some last minute massaging to convince reluctant members to get on board and drag the bill across the finish line. One Republican with whom Fox spoke with characterized last week's process as "hand-to-hand combat. "They even likened the fight for yes votes to the 15-round Speaker's race in January.
"The emotion isn't there. But it's getting there," said the Republican.
Work requirements for healthy people to receive food and health assistance was an issue for some conservatives. But tax credits for ethanol materialized as a flashpoint. Midwestern Republicans expressed their concern to the leadership.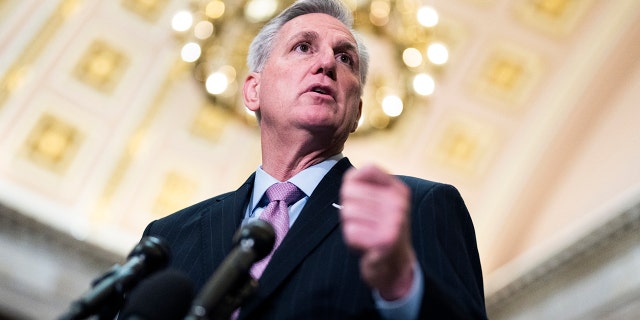 McCarthy touted an "open amendment process" to Members in order for him to secure the Speakership in January. But Fox was told the intention by Republicans was to lock this bill down with no amendments.
"It's take it or leave it," said one House source.
However, Republicans would have Pandora's Box if they re-opened the bill for internal negotiations.
"That gets dicey real fast. Everyone will want something," said one source familiar with the leadership's thinking.
The House Rules Committee, which is the final way station for most bills before hitting the House floor, conducted a lengthy meeting last Tuesday night which bled into the wee hours of Wednesday morning. Finally, McCarthy relented. House GOPers updated the text of the bill. They altered the work requirements to satisfy conservatives and amended the biofuel tax credits for the Midwesterners.
Republicans chastised Democrats for years about changing the bills in the middle of the night. But these changes were necessary to usher the package to passage.
"Our district is very heavy with corn and ethanol and biodiesel and soybeans. We have a lot of farmers investments in those that we need to protect," said Rep. Mark Alford, R-Mo. "We brought that to the attention of Speaker McCarthy. With great deference and understanding, he came back with a proposal that we were willing to accept and move forward with."
Republicans sought to downplay the witching hour adjustments.
"There were just some technical changes that were made," said House Majority Leader Steve Scalise, R-La.
"There was nothing of substance changed," said House Majority Whip Tom Emmer, R-Minn.
Let's explore some of the other sausage-making.
On late Tuesday night, Rep. Nancy Mace, R-S.C., was a nay on the debt ceiling.
She lamented the paucity of cuts in McCarthy's proposed framework.
"We're talking about maybe, barely, 10 percent of the debt over the next ten years," said Mace. "That's weak."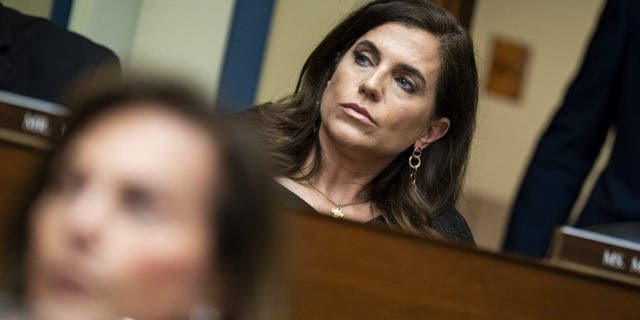 Mace also noted that the bill "was done behind closed doors."
By Wednesday, Mace was a yea on the legislation. That's because McCarthy apparently offered the South Carolina Republican a king's ransom in order to get her to yes on the legislation.
Mace's office said McCarthy would allow her to prep a Constitutional balanced budget amendment. Such a plan was part of the GOP's "Contract with America" in 1995. It passed the House but sank in the Senate. Amending the Constitution requires a two-thirds vote of both bodies of Congress.
Mace also marshaled a vote on legislation related to women's access to reproductive health and child care services. She nabbed the guarantee of a floor vote on an active shooter alert bill. And, she scored a committee markup on her "state reform" act.
"We had a very productive meeting," said Mace on Wednesday afternoon after agreeing to support the debt ceiling measure. "A lot of us have not been included in those conversations."
So much for the bill being "weak."
But problems may lie ahead.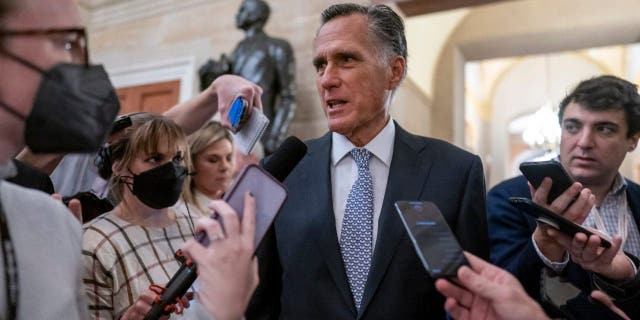 Any plan to lift the debt ceiling must secure 60 votes to overcome a Senate filibuster. Sen. Mitt Romney, R-Utah, has sometimes been part of bipartisan coalitions to enable various bills to clear the 60 vote threshold. But Romney downplayed his potential involvement in such an enterprise.
"I don't think that's going to happen. I think what you're going to see is Republicans are going to stay together and say the White House needs to negotiate. The House has acted. Republicans in the Senate stand with the House," said Romney. "McCarthy's going to have to recognize he's going to have to budge in some ways but the White House has to budge too."
Other Senate Republicans weren't willing to move yet, either.
"President Biden needs to sit down with Kevin (McCarthy) and find a way to solve this. That's what he did as Vice President. He negotiated a compromise. That's the way this movie ends," said Sen. Lindsey Graham, R-S.C.
But this is where McCarthy is going to face trouble.
That 60 vote threshold is going to be key to approve anything. But everyone knows that most House Republicans – and specifically McCarthy – may need to take it on the chin to avoid a debt ceiling crisis. What are the chances that House Republicans who backed McCarthy's bill last week can accept anything less?
"Zero," said Rep. Ralph Norman, R-S.C. "I would throw the kitchen sink in there. I wanted three times the cuts."
So, something's got to give. Somewhere.
This is where it's unclear whether McCarthy can actually accept a deal which would score support from a balance of Democrats or Republicans. Will arch-conservatives like Norman lash out at McCarthy if he tilts in any way toward the Democrats?
So, in some ways, the "ball" is in McCarthy's "court" too. And no one knows what President Biden might accept because there have yet to be any bona fide negotiations. 
CLICK HERE TO GET THE FOX NEWS APP
McCarthy surprised many by artfully crafting a bill which earned the support of most House Republicans. That enabled him to fight for another day.
The Treasury Department is expected to announce on Thursday what the true debt ceiling deadline is.
And then the "ball" will be in everyone's "court."