The office of South Korea's president is saying Tuesday that a purported leaked Pentagon document suggesting the U.S. may be spying on the country is "untrue" and "altered," reports say. 
The document provides details of internal discussions among South Korean officials about a deal to sell artillery shells to the U.S. to help replenish its stockpiles, according to Reuters. 
The officials reportedly were concerned the U.S. ultimately would divert the weaponry to Ukraine, violating a South Korean law prohibiting the country from supplying weapons to others engaged in war. 
That the U.S. was able to capture the conversations suggests it could have been spying on South Korea, according to Reuters. But the office of South Korean President Yoon Suk Yeol reportedly said Tuesday that the document is "untrue" and "altered" and suspicions his office is being spied upon are "utterly false." 
LEAKED PENTAGON DOCUMENTS PAINT GRIM PICTURE OF UKRAINIAN AIR DEFENSE SUPPLIES, MAY ONLY LAST A MONTH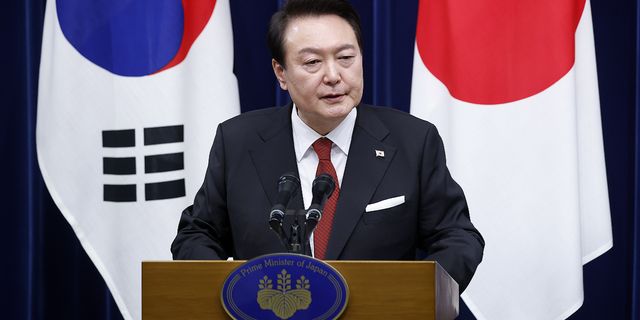 Yoon's office also said U.S. Secretary of Defense Lloyd Austin held talks with his South Korean counterpart Tuesday in which both sides agreed that most of the document was fabricated, but did not elaborate on what specific parts, Reuters reported. 
Yoon is scheduled to meet with President Biden in Washington, D.C., on April 26. 
The suspicions that the U.S. could be spying on South Korea has prompted criticism from the country's opposition Democratic Party. 
"If it is true that they have spied on us, it is a very disappointing act that undermines the South Korea-U.S. alliance, which is based on mutual trust," Lee Jae-myung, the party's leader, was quoted by the New York Times as saying. 
Lee reportedly added that if the U.S. is spying, it should apologize to the South Korean people. 
LEAK OF 'HIGHLY CLASSIFIED MATERIAL' IS BEING ASSESSED BY INTERAGENCY TEAM, PENTAGON SAYS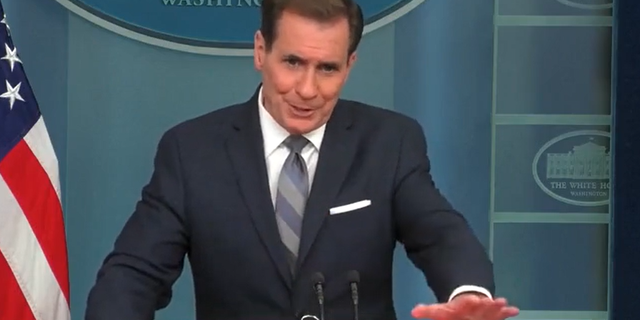 Chris Meagher, assistant to the secretary of defense for public affairs, said Monday that "we're not going to get into the validity of the purported documents posted online, but a Pentagon team continues to review and assess the veracity of the photographed documents that are circulating on social media sites and that appear in some cases to contain sensitive and highly-classified material." 
"These photos appear to show documents similar in format to those used to provide daily updates to our senior leaders on Ukraine and Russia-related operations, as well as other intelligence updates. Some of these images appear to have been altered," Meagher added. 
When asked Tuesday by Fox News Digital about the South Korean documents, the Department of Defense said it had "no further comment on the leaked documents." 
Kim Tae-hyo, South Korea's deputy national security adviser, said Tuesday that "the U.S. is the country with the world's best intelligence capabilities and since [Yoon's] inauguration we have shared intelligence in almost every sector," according to Reuters.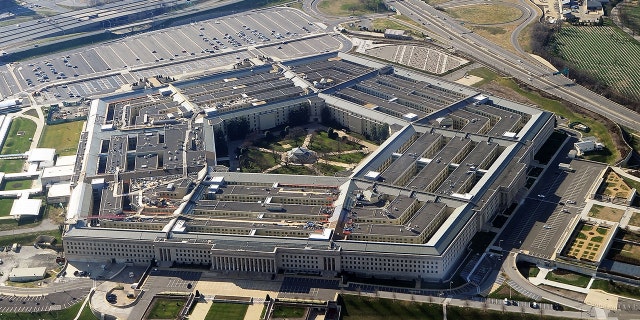 Other purported leaked U.S. Pentagon documents paint a grim picture of Ukraine's air defense outlook, predicting that the country could run out of key assets before the end of May. 
CLICK HERE TO GET THE FOX NEWS APP 
One details an instance in which a British spy plane was nearly shot down by a Russian jet off the coast of Crimea last year. 
The leaks also suggested that Israel's intelligence agency, the Mossad, had secretly encouraged the mass protests against Israeli Prime Minister Benjamin Netanyahu last month. the prime minister's office has denied the reports.
Fox News' Anders Hagstrom contributed to this report.