An 18-year-old accused of firing the shot that wounded an employee outside a middle school building in northeast Las Vegas is facing multiple felonies, police said Tuesday.
The gunfire on Monday "took place a few blocks away from the school and a stray bullet struck the victim who was on school property," Las Vegas police said in a statement identifying the suspect as Jessie Rios.
Rios was being held Tuesday at the Clark County Detention Center in Las Vegas on 25 charges including attempted murder, battery with a deadly weapon and firearm offenses including discharging a gun within a prohibited area, court and jail records showed. If convicted, he could face decades in prison.
WISCONSIN DEPUTY SHOT WHILE TENDING TO DUI SUSPECT WHO DROVE INTO A DITCH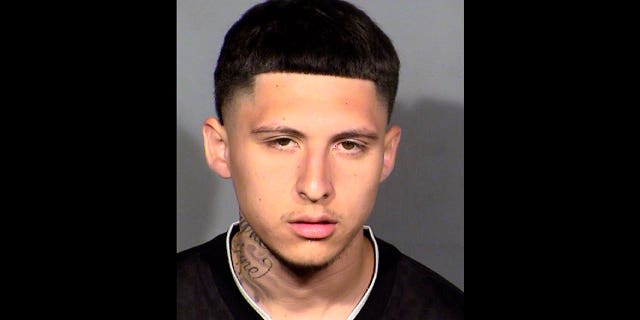 Details about Rios' arrest were not immediately made public by police, and jail records did not reflect if Rios had an attorney who could speak on his behalf. He was scheduled for an initial court appearance Wednesday.
Las Vegas police Officer Luis Vidal said the school employee, a man who worked as an unarmed hall monitor, was hospitalized in stable condition after he was wounded Monday afternoon at Ed Von Tobel Middle School. The man's name was not made public and the extent of his injuries were not described.
CLICK HERE TO GET THE FOX NEWS APP
No students, teachers or other school employees were injured, authorities said. The campus with about 1,100 students attending grades 6-8 was locked down for a time before students were released.
In a statement released Monday afternoon, Clark County school Superintendent Jesus Jara extended well wishes to "our staff member and their family as we pray for a speedy recovery."