Roger Goodell waited for an hour after Damar Hamlin's on-field collapse on Monday before suspending the game. It was the shameful act of a commissioner who's always led from behind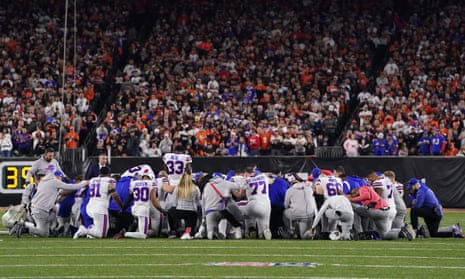 Nine minutes. For nine minutes Damar Hamlin laid on the field receiving CPR, motionless, clinging to life. An ambulance hauled Hamlin away, family by his side, to a Cincinnati hospital where he remains in critical condition.
It was as chilling a scene as it gets when Hamlin collapsed after a routine tackle during the first quarter of a nationally televised Monday Night Football game between the Buffalo Bills and Cincinnati Bengals. Millions watched Hamlin's fall. Cameras captured the aftermath of gut-wrenched Bills teammates attempting to process the scene in front of them.
This was one of those horrifying moments that unifies. The Bills and Bengals were no longer opponents. They were devastated human beings bonded in prayer for Hamlin. The rest of us, whether football fans or not, took to social media searching for answers and comfort and any ounce of positive news. We exchanged emotional texts with our loved ones just as we had after school shootings and George Floyd and other tragedies. Whether in the stadium in Cincinnati or on the other side of the world, we coalesced over our intense desire for Hamlin to be OK.
No one was thinking about football. Except …
No way could the players get back on the field. No way could anyone watch football.
Amid Monday night's chaos, ESPN announcer Joe Buck reported that, per NFL sources, the teams would have five minutes to warm up before the resumption of play, implying the game would continue. According to Buck, it was Bengals head coach Zac Taylor who then walked over to Bills head coach Sean McDermott and the coaches pushed the pause button. This report was later denied by NFL executive Troy Vincent. Someone is either lying or misconstruing the truth.
What is undeniable is that it took nearly an hour for NFL commissioner Roger Goodell to officially suspend the game. Even for Goodell, the poster boy for reactive decisions, this was shocking. Goodell has hemmed and hawed over a litany of big dilemmas during his tenure. His personal conduct policy and deeming it financially acceptable to admit fault on destroying Colin Kaepernick's career come to mind. This was the easiest "big" decision of his tenure. You stop the game. There was no room for football. Did he not see the tears pouring out of Hamlin's teammates, not to mention the Bengals? Read the room. No one was in the right mental space to re-take the field. This wasn't a "do it for Hamlin" situation. He wasn't carted off the field with a torn ACL. He was hauled off in an ambulance. The only thing his teammates and the world were thinking about was Hamlin's survival.
Goodell's decision to postpone should have been immediate. The man's life hanging in balance is unequivocally more important than a silly football game. Have a heart for Hamlin and his family. Have a sense of the mental toll on Hamlin's teammates. Be a human being. This shouldn't have been a weighty decision. Goodell hasn't exactly been the bastion of leadership in tough times, but this was a slam dunk.
Instead for some reason, it took an hour. It was hour of misery. The hour has turned into many hours, but that first hour came laden with the audacious notion that the NFL might try and play because no leader told us otherwise. It's hard to imagine what Goodell was waiting for. Was the hour to get assurance that logistics could be worked out for a reschedule? Or perhaps it was directing league attorneys to scour through television and ad sales contracts and ensure the checks would still come upon postponement?
The blueprint for Goodell to display leadership was so simple. Immediately announce the game is suspended. Join the Monday Night Football broadcast to offer the Hamlin family support and offer mental health resources to the players. Show that you how you care about player safety and acknowledge that this situation is bigger than football. Feel this tragedy in your heart like the rest of us.
The Goodell Era has been defined by making billions for the owners while hiding under a rock on almost every NFL issue not related to revenue generation. This one didn't need cover or vacillation. This was an easy opportunity to lead and provide some semblance of comfort. Instead, Goodell's hesitation was shameful.