FIRST ON FOX: Rep. Alex Mooney, R-W.Va., a candidate for U.S. Senate in his state, on Thursday welcomed Gov. Jim Justice to the primary race with a new ad bashing the newcomer over his handling of the COVID-19 pandemic.
Justice, who officially launched his bid to win the seat currently held by Sen. Joe Manchin, D-W.Va., earlier in the day, was first elected governor in 2016, and led West Virginia through the pandemic years with largely mixed reviews from his fellow Republicans.
One West Virginia Republican who praised Justice throughout his efforts to combat the coronavirus was Mooney himself. However, in an ad released after Justice's campaign launch, the four-term congressman reversed his previous views on the governor's job performance, slamming him for what he called his "liberal record."
"Jim Justice is trying to hide his liberal record. As governor, Justice destroyed business and lives when he locked down our state. And big Jim pushed the largest tax hike in West Virginia history, backed Joe Biden's trillion dollar spending bill, and tried to stop adults from buying sporting rifles," the ad said.
JOE MANCHIN'S SENATE SEAT RACE HEATS UP AS GOV. JUSTICE JUMPS IN: 'I'M WORRIED ABOUT THIS NATION'
"Now, big Jim wants to be your senator, but he can't mask the truth. Liberal Jim Justice just can't be trusted," it added.
In contrast to the ad, Mooney previously heaped praise on Justice for his handling of COVID-19, including appearing alongside the latter at a press conference providing an update on the state's response to the pandemic in August 2020.
"Thank you, Governor, and your team for your leadership in this important time," Mooney said during the press conference, before going on to praise funding for business loans to keep them operating during the pandemic, and for the option for parents to send their children back to in-person learning at school.
Mooney, again, praised Justice on another occasion in August 2020 in a press conference with then-Vice President Mike Pence concerning combating the pandemic.
CRUZ BACKS ALEX MOONEY IN WEST VIRGINIA SENATE RACE AS GOP WORKS TO UNSEAT JOE MANCHIN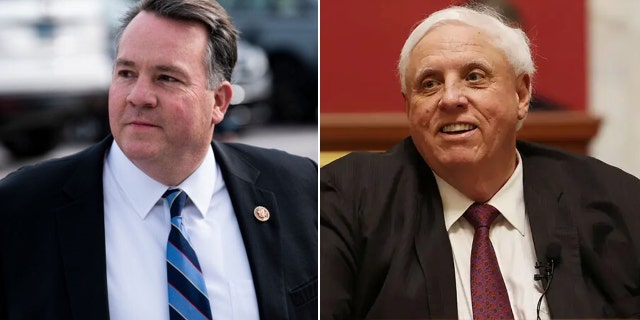 "Our governor has come up with a system that works for West Virginia. It may be different for different states. Frankly, it's different for different regions within our state. You know, southern West Virginia has different issues than the northern panhandle. So we need to have flexibility. I appreciate the flexibility. I appreciate having a governor that we can talk to about our congressional districts and what's needed. So thank you for that. Both of you, thank you for what you're doing there," Mooney said.
Following the onset of the pandemic, Mooney also signed a letter to then-President Donald Trump from the entire West Virginia congressional delegation in support of Justice's disaster declaration as a response.
A spokesperson for Mooney's campaign, however, pushed back on any notion the congressman was fully supportive of Justice's pandemic measures when asked by Fox News Digital about the apparent differences in attitude from then to now.
"In Washington, Alex Mooney consistently co-sponsored and voted for legislation to end the COVID-19 national emergency, and overturn vaccine and mask mandates," campaign manager John Findlay said. "Mooney supported COVID measures only in the very first weeks of the pandemic. He has been one of the earliest and most consistent voices against harsh lockdowns and draconian COVID mandates."
WHO CAN BEAT MANCHIN IN WEST VIRGINIA? REPUBLICANS AREN'T SURE YET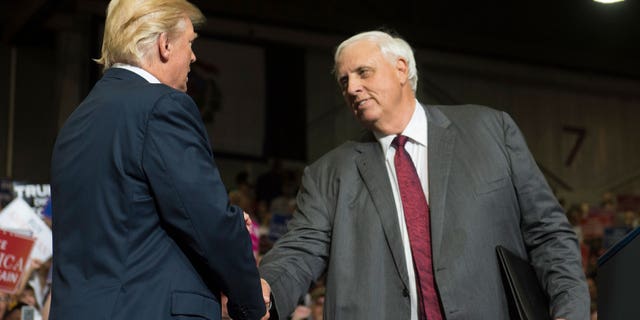 "Meanwhile, Governor Jim Justice supported trillions in wasteful COVID-19 spending, enacted harsh lockdowns, and caused West Virginia to be one of the last states to end the COVID-19 state of emergency," he added. "Justice actively sought out ways to continue the COVID-19 state of emergency in West Virginia, while Mooney worked to help West Virginians return to normal lives – it's quite the contrast."
Justice, who left the Democratic Party and became a Republican in 2017, took a less aggressive approach than other Republicans across the country in ending the measures implemented to combat COVID-19 in his state, including on vaccines and masks.
In March 2021, Justice defended West Virginia's mask mandate and pushed back on calls to end the restriction. "I don't know what the big rush is to get rid of the masks. These masks save lives," he told CNN. "We're going to do the smart thing in West Virginia. We're not going to do the thing that's politically correct."
He repeated that sentiment in another interview that month, asking West Virginians to be more "prudent" for a little longer.
WV LAWMAKER LEAVES DEMS FOR GOP, DEALING ANOTHER BLOW TO FORMER PARTY AFTER OTHER HIGH-PROFILE SWITCHES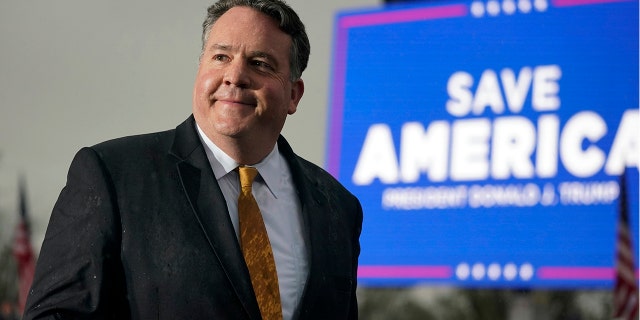 In July 2021, while pleading for West Virginians to take the COVID-19 vaccine, he told those who were not yet vaccinated they were "part of the problem," and later pushed back on President Biden's Sep. 2022 claim that the pandemic was "over."
"I don't think the pandemic is over," Justice told members of the media in West Virginia, according to MetroNews. "I think we can live with this pandemic but the more people we can get across the finish line and get vaccinated the better we'll be able to live with this pandemic. It's not over. It's absolutely not over."
Fox News Digital reached out Justice's campaign for comment, but did not receive a response.