The New York Jets were 7-4 through their first 11 games of the season, sitting in a great position to break their playoff drought of 12 years. But after losing six straight games to end the season at 7-10 with no playoff berth, Gang Green goes back to the drawing board.
General Manager Joe Douglas has done well to build his roster on both sides of the ball, but a key question all season long is whether the Jets got it right at quarterback. Zach Wilson was benched twice during the season as he clearly regressed in his sophomore year since being drafted No. 2 overall.
Wilson's future with the Jets, then, is in question and many believe the Jets will be looking for a veteran option in the free-agent market. It's not what they envisioned when drafting Wilson out of BYU.
CLICK HERE FOR MORE SPORTS COVERAGE ON FOXNEWS.COM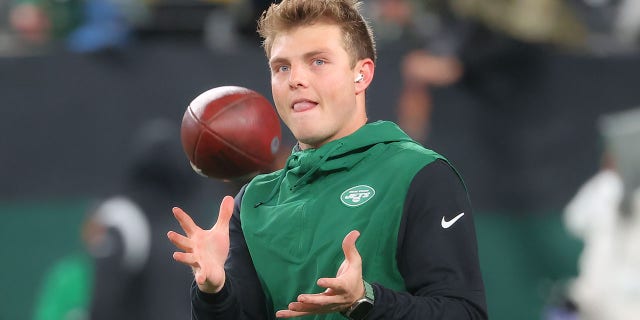 If they do bring in a new quarterback to One Jets Drive, Wilson, who has two guaranteed years left on his rookie deal, promises to make things hard on his teammate.
"I'm going to make that dude's life hell in practice every day," he said via the New York Post. "I'm going to go out there and do my best to show the coaches that I deserve to be there. It's not in a negative way, it's a positive way. It's making everybody else better."
JETS COMMITTED TO ZACH WILSON'S DEVELOPMENT: 'THROUGH HELL OR HIGH WATER'
It's a good mindset to have for Wilson. However, his struggles to move the offense consistently are forcing the Jets into this predicament.
Wilson threw for six touchdowns this season compared to nine interceptions. When the Jets were winning games, they were relying on their run game – rookie second-round pick Breece Hall bulldozed through defenses before suffering a season-ending knee injury – and their lockdown defense. In Wilson's five wins as a starter this season, he only threw for two touchdowns while averaging 169.4 yards per game through the air.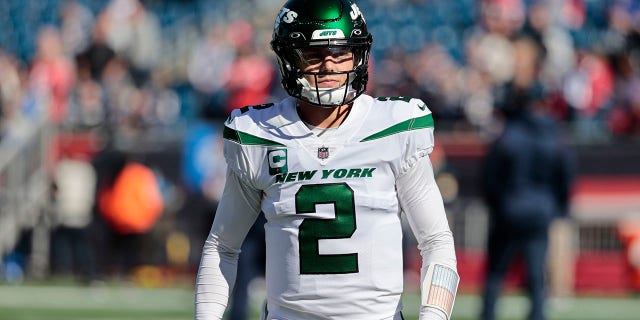 After Hall's injury, the Jets weren't as stout in the run, which led to Wilson dropping back more. The results weren't positive, and it came to a head in New England when he went 9 for 22 for 77 yards in a 10-3 loss to the Patriots.
Following the embarrassing performance, reporters asked Wilson if he believed the offense let the defense down – which gave up just three points before a Marcus Jones punt return sealed the win for New England – Wilson simply responded, "No." A couple of days later, the Jets benched him and moved on to Mike White.
ZACH WILSON WOULD HAVE BENEFITED FROM SITTING BEHIND A VETERAN QUARTERBACK, JETS OC SAYS
White and veteran Joe Flacco are both free agents this offseason, which adds to the rumors that the Jets will be going after a veteran with the idea that he could start over Wilson.
In two seasons, Wilson is 8-14 as a starter, owning a 55.2 completion percentage with 15 touchdowns to 18 interceptions.
The Jets still feel Wilson has the talent to be a successful quarterback in the league.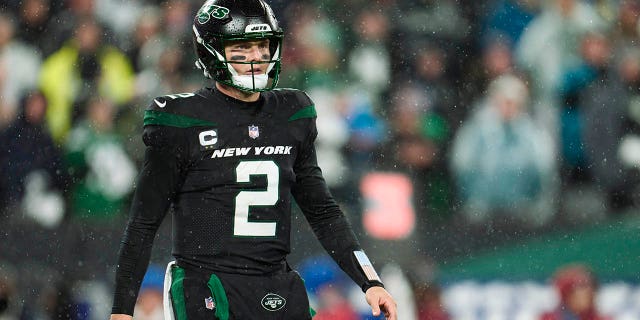 CLICK HERE TO GET THE FOX NEWS APP
"Philosophically, we've never been a team that has given up on talent early," Douglas said via the Post. "We all know the talent that Zach possesses. We're going to do what we've done with every player – that's work with Zach, develop Zach. We're going to do everything we can to ultimately help Zach reach his full potential here."